In this article we explain how to complete each step of the joinin checkout process
Checkout timer


When you are checking out items in the shop you will be given a default 30 minute window to complete the registration and payment. A countdown timer is presented at the top of the checkout pages.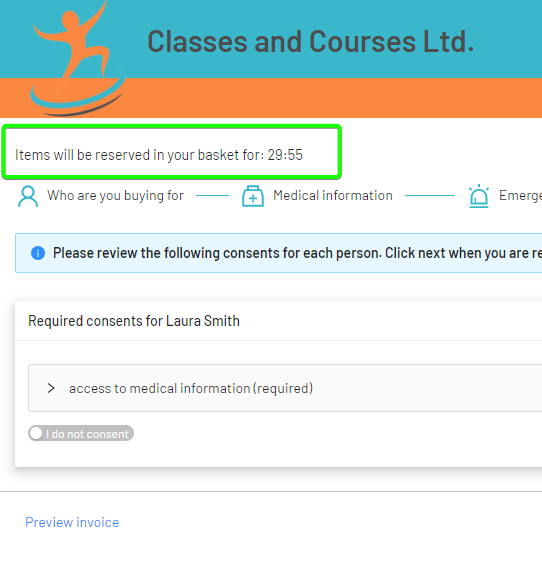 Once the timer reaches 1 minute, will be presented with a message to extend the time/continue with checkout; if you choose 'Yes please' the timer is extended by 5 minutes, if not, you must checkout in time, or start the checkout again, and the add the items again to your basket.


Note: A person will reserve a space in a class or an event for the duration of the checkout, until the checkout is completed, or the timer has expired.

Who are you buying for?


This section will typically be the first in the checkout and where you will confirm who you are purchasing or registering for.
If the person is you (the owner of the joinin account), this person will already be selected.
If the person is someone else you can either choose an existing family member from the drop-down menu if they exist, or choose to add a new person, as shown below.


Note: When adding a new contact, the address you entered when you created your joinin user account will be available to select from the Address drop-down. To enter a new address for a person, just click on where you see 'New address'.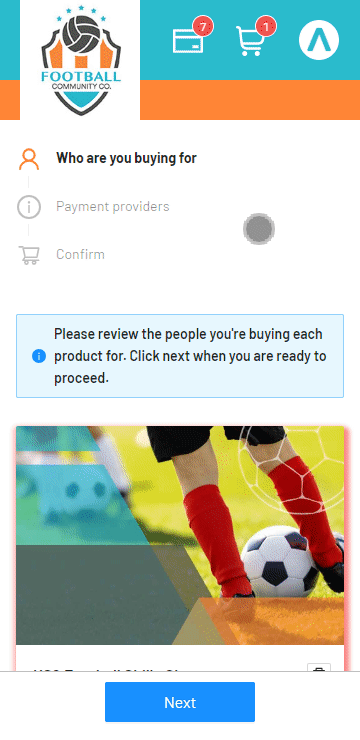 Additional Products


You may be required to add additional products to your basket as part of the checkout process. This will be determined by the organisation and the type of product or service you are checking out with. An example may be an insurance cover if you are purchasing a club membership.
To add the additional products, click on the blue Browse button and choose the person that the product is required for.

Medical Information

Choose either 'Yes' or 'No' and click Submit as required.

Medical information is captured in a standardised form. If you choose 'Yes', the form will open, and any relevant medical information can be entered into the relevant sections. Please note that no sections on the medical form are mandatory.

Emergency Contacts

Organisations may ask you to provide details for emergency contacts, typically one or two.
To add details for an emergency contact, click on the Add contact button. Only a first name, last name and phone number are required.
Once you have added the minimum number of required emergency contacts, you can click the Next button to continue.
Consents

As part of a purchase or registration an organisation may ask you to give consent to aspects their service, such as terms and conditions or first aid administration. To change the status of a consent, simply click on the consent switch to toggle between 'I do not consent' and 'I do consent'.
Consents may be Required or Optional.
Note: You cannot proceed to the next steps of the checkout unless all Required consents have been changed to 'I do consent'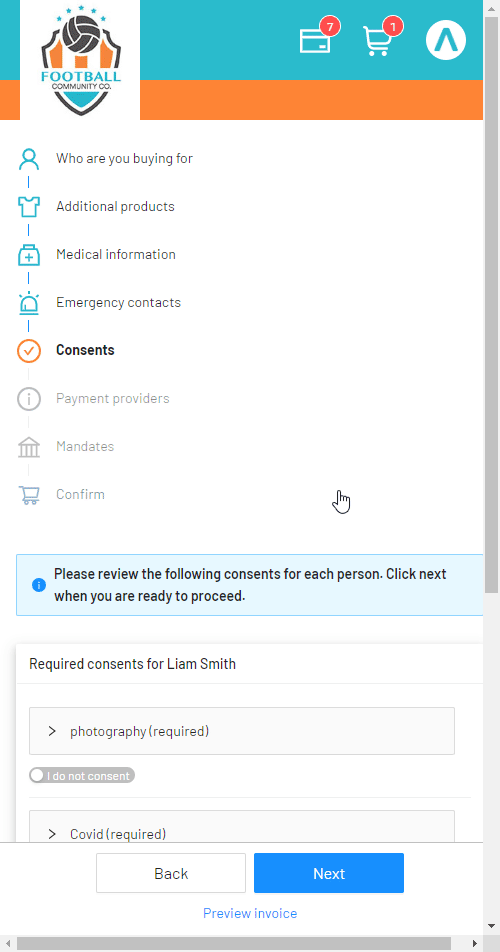 Additional information

An organisation may wish to ask you further questions that go beyond standard personal information. Examples may be understanding your interest in volunteering or asking where you heard about their organisation.
To answer the additional information questions click on the blue Open form button. Required questions will be highlighted in red and must be completed before you continue.

Payment Providers

In the Payment Providers section the payment provider(s) who can process your online payment will be confirmed. The providers available will be determined by the organisation, and not by LoveAdmin.
Note: For making credit/debit card or PayPal wallet payments a PayPal integration is required, and is only available if enabled by the organisation.
PayPal will not be available for recurring payments and can only be used for one-payments at this time.


Mandates
In this section you will set up a Direct Debit mandate to process either a one-off or recurring payment via a web form. The mandate is the instruction you give to your bank to authorise payment(s) from the organisation.
An organisation may ask you to set up your mandate in advance as part of a registration, with the intention of sending you an invoice to process from the mandate automatically, at a later time.

You can manage or cancel your Direct Debit mandates at any time by signing into your online account via https://app.joinin.online and navigating to the Payments in the side menu > Mandates.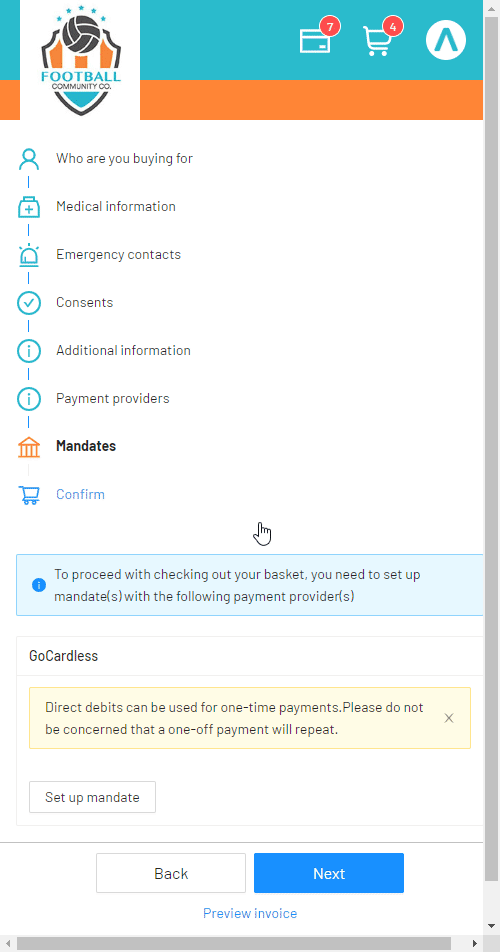 Confirm


To complete the checkout you must click on the 'Click here to complete checkout' button, at the final Confirm stage of the checkout.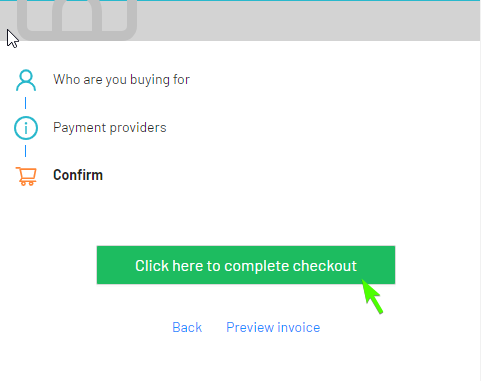 If this button is not clicked, then your checkout will be abandoned.
Note: If your checkout is abandoned and you set up a Direct Debit mandate as part of the process, then your payment will not be processed.

You will however receive an email from the payment provider to confirm you have set up a mandate. For payment to be taken from the mandate, you will need click on the 'Click here to complete checkout' button, or start the checkout process again if you have since left the shop.