In this article you will learn how to create your discount strategies and apply these to your different product types
Note: This article contains the basic information for how to create and set up a discount. It is designed to be used in conjunction with our examples article.
For in-depth information on all of the discount settings and how they function, view our advanced article here.
Creating and editing a discount


To add a discount, navigate to Home > Settings > Organisations > Discounts
Click on the Add discount strategy to create and add a suitable description, such as sibling discount, or multi-buy discount, and click on the save icon
Description - This is the name of the discount

This is visible to purchasers
Volume/Progressive Discount Slider - The slider will set whether the discount is calculated as a volume or progressive discount:

Volume Discounts

affect all purchased items - A volume discount for siblings will give all siblings involved the same discount

Progressive Discounts

affect just the specified item(s) - A progressive discount for siblings will give just the specified siblings a discount

Action - Action icons allow you to save or delete your discount strategies
The range is where you set what triggers the discount, when, how much it discounts and whom it applies to. Click the + icon next to the discount name and click "Add range":
Create the discount per the settings required. We'd advise copying the common examples in the article here
Choose Save when done
Note: Members only will only grant the discount to contacts who have purchased another items that has been designated as a membership. It does not automatically connect to a "Subscription/Membership" product.
It is not a commonly used feature, so there is no need to turn it on unless you know you need it.
View our full help article for more information.
Applying Your Discounts to Products



(Click animation to enlarge in a new tab)
Steps:
Navigate to Settings > Products > open the product Discounts settings
Select 'Add discount' or 'Multi-Product discount'
Select which discount strategy you wish to apply to the product

Expiry Date - when this discount will end
Calculate Over Period

Billing frequency - the discount will be applied each and every time there an invoice is issued
Schedule - The discount is applied each time a schedule renews

For example, if you are billing monthly for a class that runs on a three month schedule, the discount will be applied on the first month's billing only

Once, at purchase - The discount will only apply when the product is first purchased

Restrict Discount to Units? - If set, only purchases of the selected units will have the discount applied
Select Save under actions
Tip: You can apply discounts at the product group level. By doing so, the discount will be inherited by all the products and product sub-groups within this group.
Product groups can distinguished from products by the folder icon.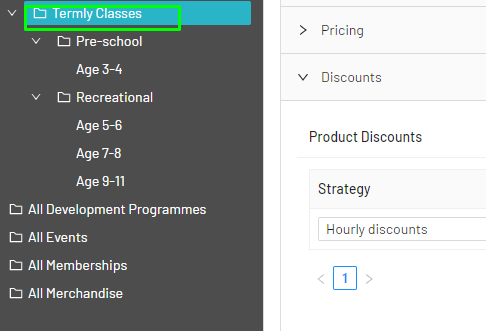 Applying Your Discounts to Groups