Here you'll learn how to remove a contact record and what to do if a member leaves your organisation and you want to clear their details
As soon as a contact accepts a club invitation or registers/pays for one of your products, they will appear in your contact list. If you need to remove a contact record at any time, follow the instructions below.


Important: When marking an account inactive you are not deleting the contact or denying access to their Joinin account; this process only removes the user's permissions to share their data with your organisation so you are no longer able access the data.
The member can still login to Joinin and manage their account and their financial and personal information.
Steps to remove a contact:
Navigate to Home > Contacts
Select the contact from the list
Open the Manage menu from the left side-bar and choose 'Mark inactive'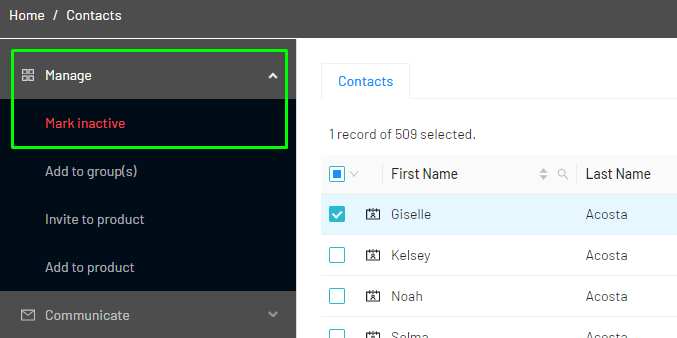 Marking a user an inactive will remove their permissions to share data with your organisation, and the contact record will be removed from your account.
Note: Once a contact has been marked as inactive, please also note the following:
The contact will be removed from the product and from all future schedules and billing
The contact will be removed from waiting lists
Direct Debit Mandates will be cancelled
The member's invoices will still remain on your system, including any that are outstanding
The contact will be able to sign up through your shop again.
All financial records by the user will remain in the financials records and reports, even after a contact is removed.
The contact can only be restored in your contacts by choosing to add the contact again, and the member must accept your new invitation. For help adding contacts read our help article here.