If you want to take subscription/membership sign-ups ahead of a new period, you can set your membership transition dates
On any subscription or membership product, you can set how many days before the the date of billing that you'd like people to be able to purchase the product in advance. If your payments starts in September, but you'd like people to register interest before that, you can set "force the purchase of the next period" in your Products and Billing Settings.
If this option isn't set, the system will always take sign ups for the current season, meaning it might look back up to a year and run the membership from then.
Steps
Navigate to Settings > Products
Select the relevant product group or product from the sidebar
Under Settings, open "Billing and renewal"
Scroll down to Billing
The option here is "Force the purchase of the next period"
Set here, the number of days

before

the billing date that you'd like to stop taking registrations for the previous billing date and start taking sign ups for the new billing date

"Last purchase date" will show the last day new sign ups will purchase the previous season
Any dates after that will sign up for the coming season and created a scheduled payment in Orders that can be manually adjusted there

Click Save
Age Restrictions
If you are running age restrictions for the coming season, make sure you have set the "Year Switch Date" to match that of your pre-sign up date that you're setting here. This date will mean your age restrictions continue to apply correctly.
Example
In this example, our season starts on the 1st of September, which is the date we want people to start paying.
In June, we ask our members to sign up for the next season, to start paying on the 1st of September
We need to set the "Force the purchase" days to match accordingly: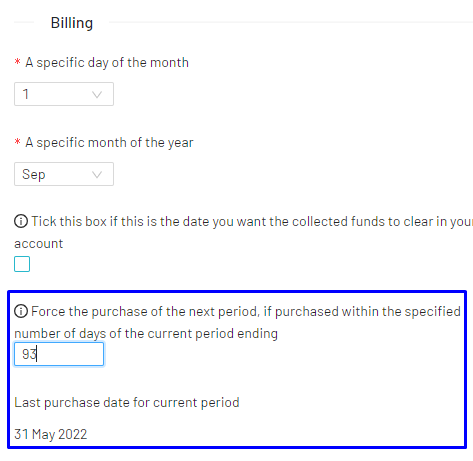 In this case we can see the billing date is set for the 1st of September and we've set 93 days before that date to purchase the next period. The last possible day to buy the 2021/22 season would be the 31st of May 2022.
Note: Remember you can change the product status to Private to close sign ups entirely. Many clubs will close their sign ups for a few months, then re-open them later with the above settings to take their next season sign ups.