Want to know what's new in LoveAdmin? Here you'll see what we've updated and how to use it:
These are just a few of the exciting features we've implemented in Version 2 (V2) so far - we'll be updating this page regularly, so come back soon for all your V2 updates.
| | |
| --- | --- |
| Version | 2.1.8 |
| Release date | 09/03/2023 |
All-new Communications report

The 2.1.8 release introduces an all-new Communications report with enhanced analytics, key insights and functions to help drive and improve the management your organisations' communications.
The new Communications report can be found under Home > Reports > Communication > History


Communication Analytics
Subject: Click on the subject name in the report to see an analytics view of the email details, and see a copy of the original email that was sent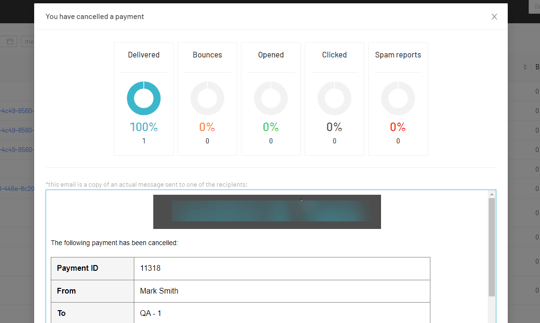 Send date: The date that the email was sent and pushed out to receipts from the LoveAdmin system
Recipient count: Clicking on this number will show names of all recipients and their email address.


Recipient name: The Recipient name is person the email has been targeted to. If you have sent the email to a beneficiary, and they have a personal email address, it will be delivered to them. If you send it to a beneficiary and they do not have a personal email address, the email will by default be delivered to the Account Owner
The recipient list can be exported via the Actions menu in the top-right
To re-send/send an email, select the recipients from the list > Actions > Choose to Re-send this message or Send new message

Delivered: Message has been successfully delivered to the receiving server
Opened: Recipient has opened the HTML message. This analytic will not work for messages delivered as plain text, or messages have been previewed without images, or viewed through email previews/notifications
Clicked: Acknowledgment from the recipient email client(s) that a link in the email has been clicked
Bounced: Receiving server could not or would not accept mail to this recipient permanently. If a recipient has previously unsubscribed from your emails, the message is dropped.
Blocked: Receiving server could not or would not accept the message temporarily. If a recipient has previously unsubscribed from your emails, the message is dropped
Spam: Confirmation from the recipient email server(s) that the email has been flagged by their spam policy
Invalid: Receiving server temporarily rejected the message
Sent by: The name of the user that sent the email. If the email was sent automatically, then the name will display as 'System'.

Report Filters
Messages can be filtered by date, the message type, or by group they were sent to, using the drop-downs along the top of the Communications report.

New checkout timer


Users checking out items in the shop are now given a default 30 minute window to complete the registration and payment. A countdown timer is presented at the top of the checkout pages.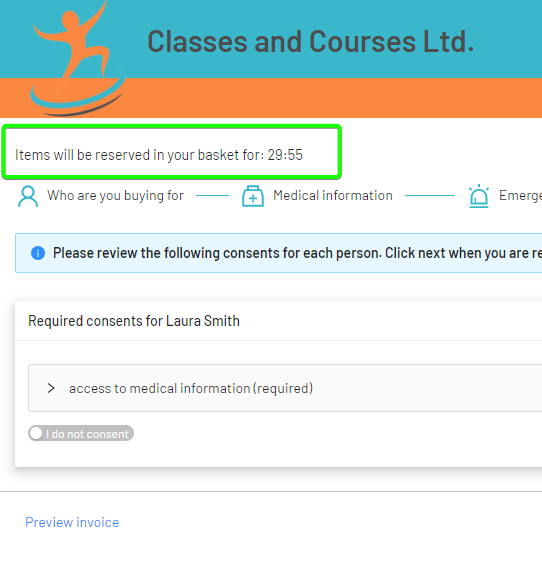 Once the timer reaches 1 minute, users are presented with a message extend their time/continue with checkout; if they choose 'Yes please' the timer is extended by 5 minutes, if not, the user must checkout in time, or start the checkout again, and the add the items again to their basket.
Note: The default checkout time can be managed by navigating to Settings > Organisation > Details > Checkout Timeout
Important: A person will reserve a space in a class or an event for the duration of the checkout, until the checkout is completed, or the timer has expired.


Abandoned Checkout report


Users that abandon the checkout, or fail to complete all steps in time, will appear in a new 'Abandoned Checkout' report.
To find the Abandoned checkout report, navigate to Home > Sales admin > Abandoned Checkout




Abandoned Events:
on abandoned at checkout: The user abandoned the checkout process before reaching the payment section
on abandoned payment: The user abandoned the checkout process whilst on the payments section. The user did not successfully enter or submit their bank or cards details through the form.

How to re-invite people who abandoned the checkout
The Abandoned Checkout report allows you to re-invite users to the products they abandoned - This option will send an invitation email to the person, with a link back to the same product in the shop, and remove their name from the list.
The Re-invite and remove action is found under the Actions column, along with the option to Delete their entry and data.
Important: Delete will only remove the entry from the report, and will not delete their contact record from your account if the person has an association already.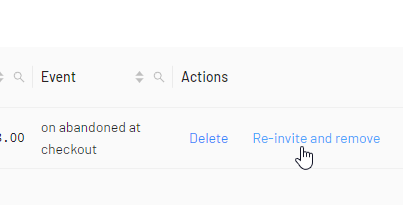 A person's data will be temporarily stored for 30 days if they have entered any. If the person is re-invited to the product their details will therefore already be filled in to save time.
Note: after 30 days the data on the abandoned checkout report will be wiped
| | |
| --- | --- |
| Version | 2.1.7 |
| Release date | 21/02/2023 |
New column customisation options in Contacts


The Contacts section now allows further column customisation to enhance your views. This latest update also introduces a new column, Groups, which displays all group associations of a contact.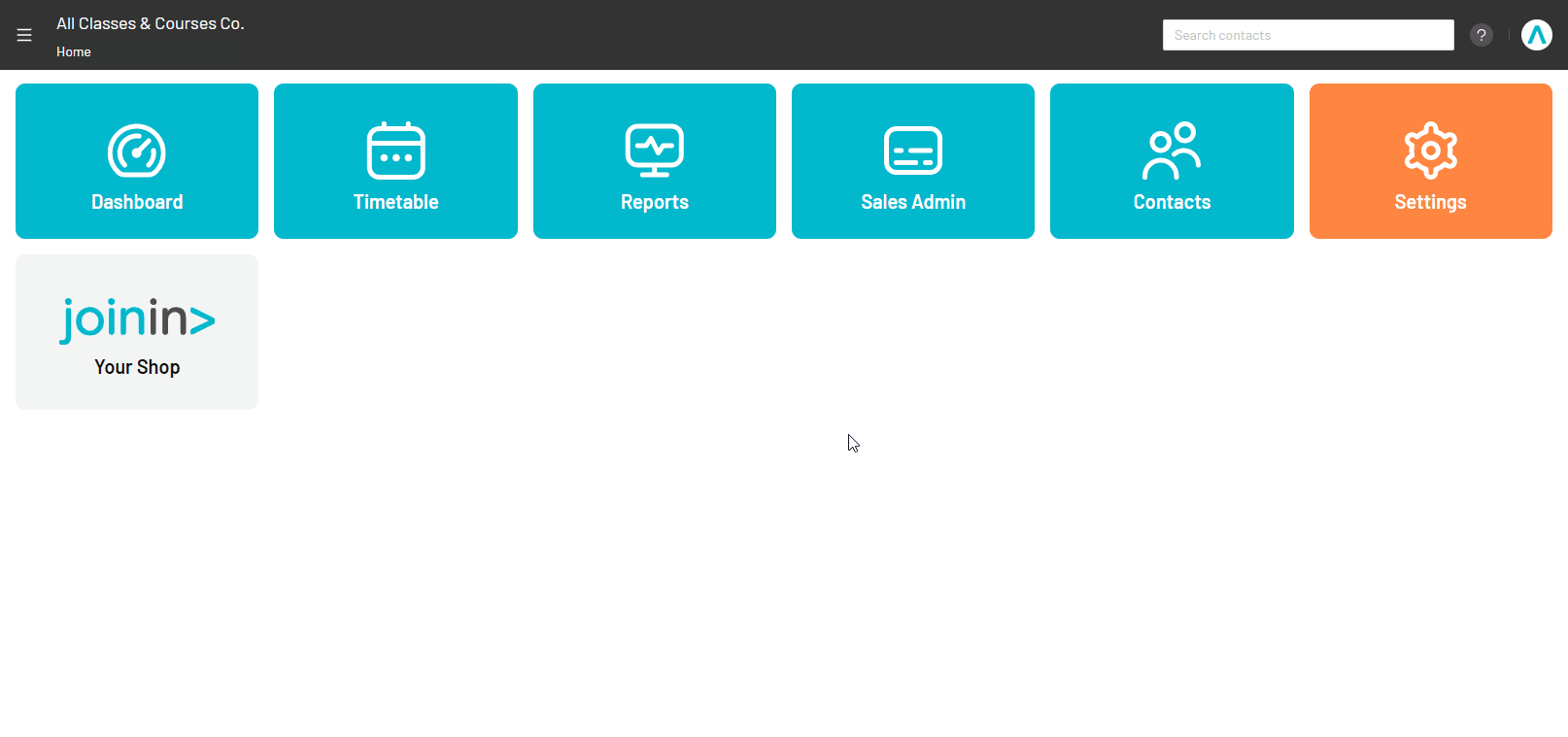 Manage, clone and restore your archived schedules

All expired schedules can now be found under a new Archived tab, found under the Schedules tab within each product setting, and within the Schedules section.


Archives schedules can be cloned or permanently deleted under the Actions column, to save you valuable time with your schedule renewals.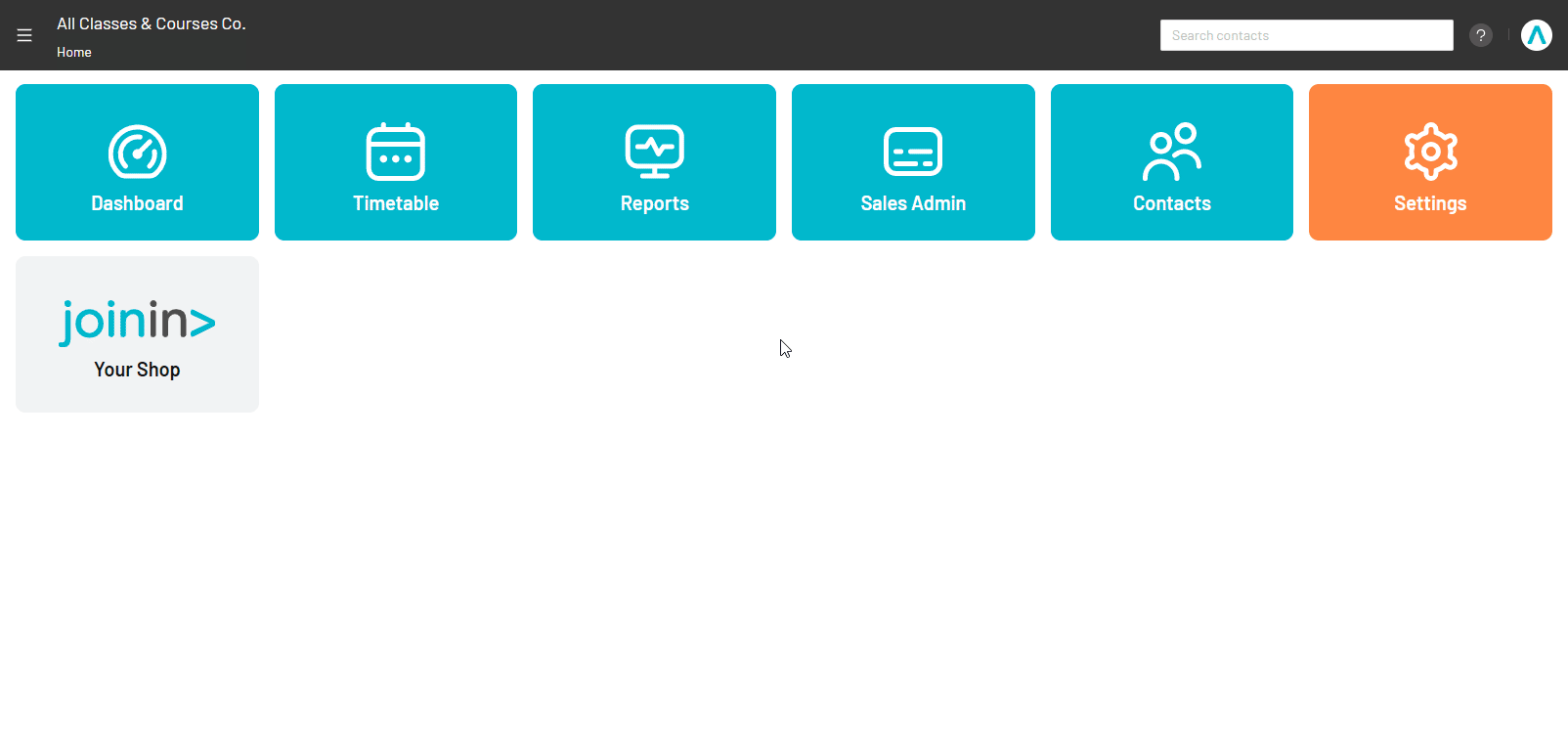 Removing a schedule from your Active list, will now move the schedule directly to your Archived list.


Attendance counter added to registers

Quickly count the total of class attendees using the new attendance counter displayed in the top-left corner of each class register.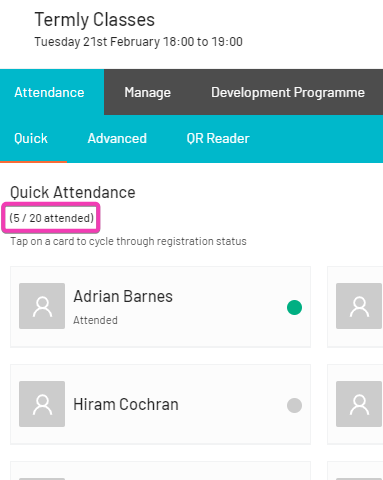 | | |
| --- | --- |
| Version | 2.1.6 |
| Release date | 02/02/2023 |
Assign coaches to products

With this latest software update comes the ability to assign coaches directly to products. Previously, coaches could only be assigned to products (Classes/Teams) that were running on schedules.
To assign coaches:
Navigate to Home > Settings > Products
Find the product you want to give access to
Click on the product Permissions tab and select your coaches
This new workflow makes it simpler to control product and information access for your coaches.
When coaches sign in, the Contacts and Timetable sections of the system will be restricted to show only products that the coach is assigned to, and only information for the contacts associated with these products.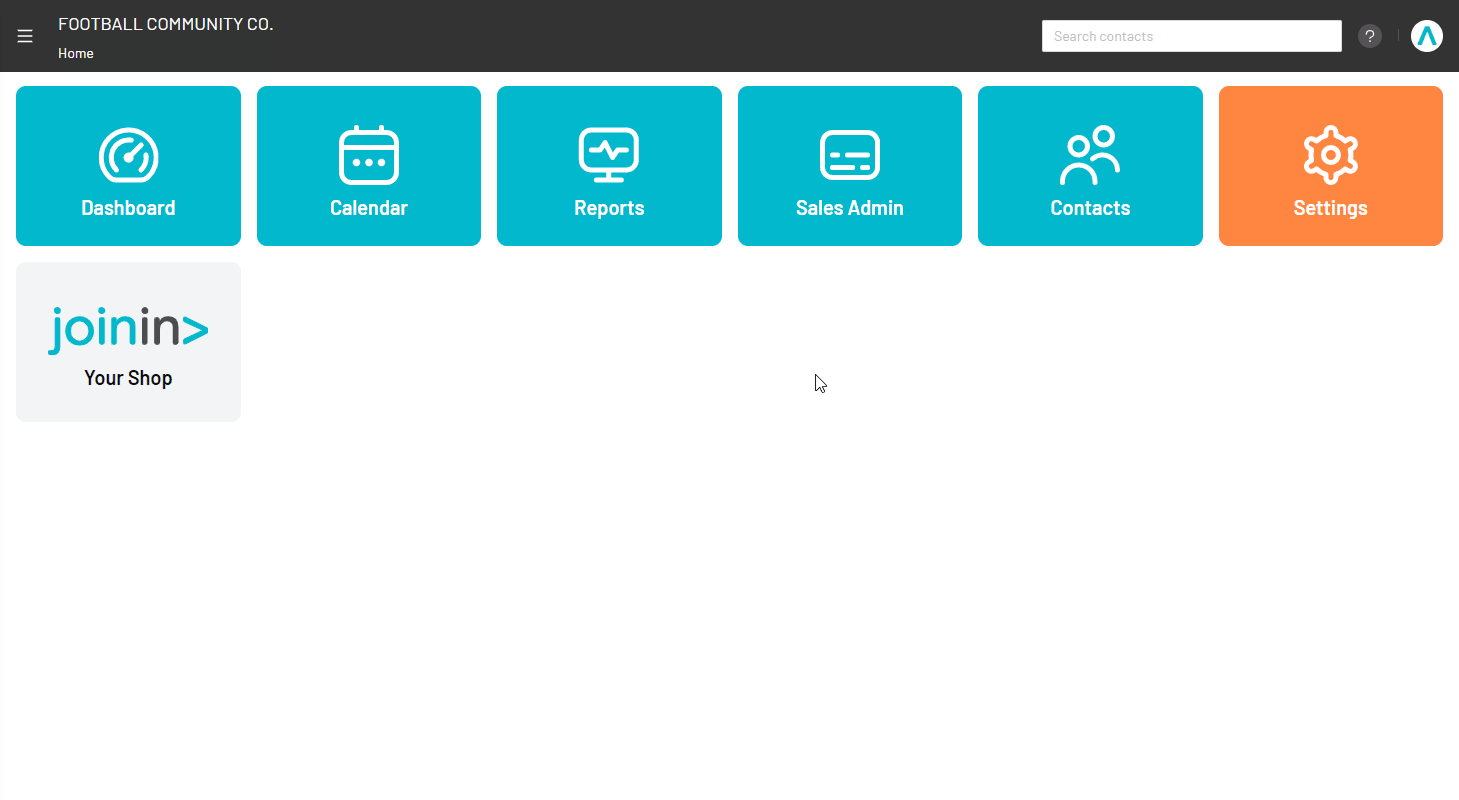 | | |
| --- | --- |
| Version | 2.1.5 |
| Release date | 25/01/2023 |
Assign exclusion calendars to schedules in bulk

Exclusion calendars can now be assigned to schedules in bulk, making it easier to support business wide changes such as additional bank holidays or site closures.
Navigate to Home > Settings > Schedules
Click on the Exclusion dates tab
Find your calendar from the drop-down, or a create a new one
Apply your dates and use the 'Apply calendar to schedules' button to assign the calendar to your schedules
Your exclusion dates will be removed from your timetables, and will be automatically excluded from billing calculations.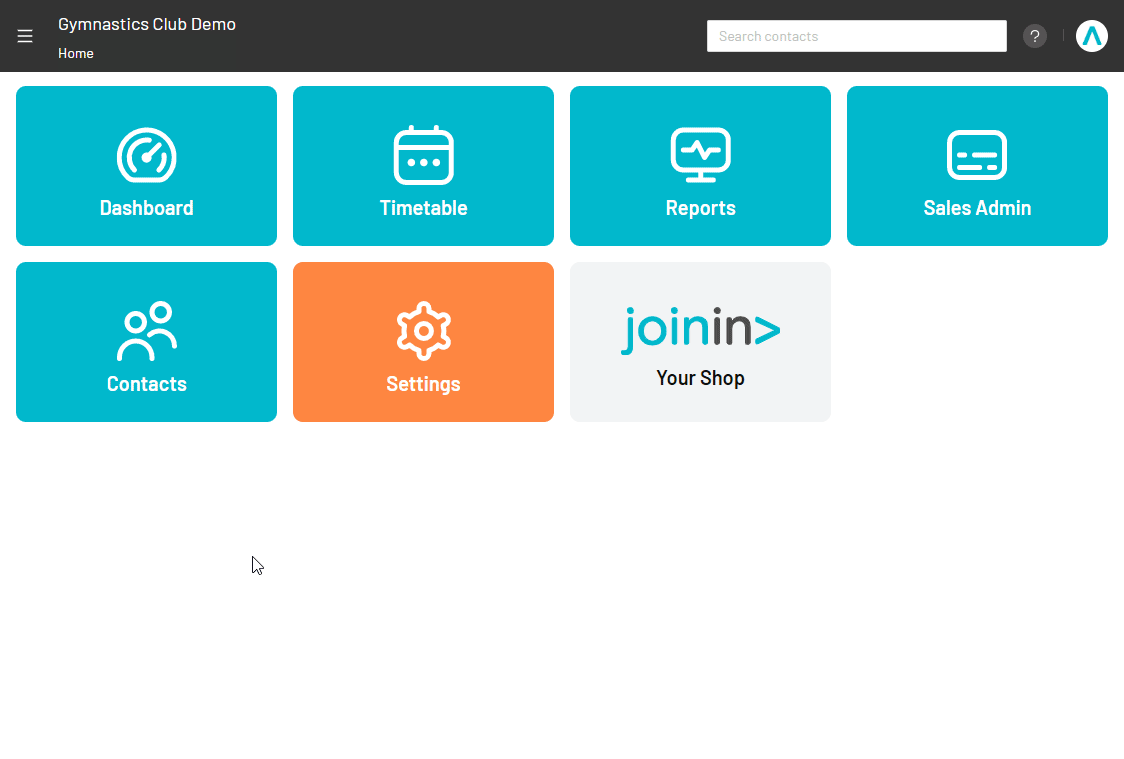 Multi-session trials
If your organisation offers multi-session trials, for example a two week or one month trial period, you can now manage this offering and workflow through the system.
Before you enable multi-day trials, ensure you have first completed the following steps:
Add a Trial size limit under the Trials section of the Product Settings
You have added your trial and price under the Pricing section of the product
Trials can only occur across consecutive dates. Therefore, you must use calendar entry unit pricing, with the 'Same day of the week time' or 'All calendar entries' purchase option. 'All calendar entries' will add attendees to sessions as they consecutively occur in the schedule.
Navigate to Home > Settings > Products
Select your product from the left side-menu and open the Trials property setting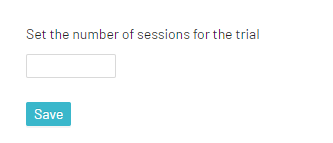 Set the number of sessions for the trial accordingly, for example '2', and Save.


Trialists will be added to all relevant days in your timetable. An invitation can be sent to the trialist to purchase the full product, when marked as having attended the last session in the trial.


Credit attendees when sessions/calendar entries are cancelled

Credits can be given to attendees when you cancel a session/calendar entry from your calendar, in a single workflow.
Navigate to Home > Settings > Schedules
Click on the Calendar tab, and on the entry you need to cancel
Click on the 'Cancel calendar entry' button, choose whether you wish to credit the attendees, and follow the steps to apply the credits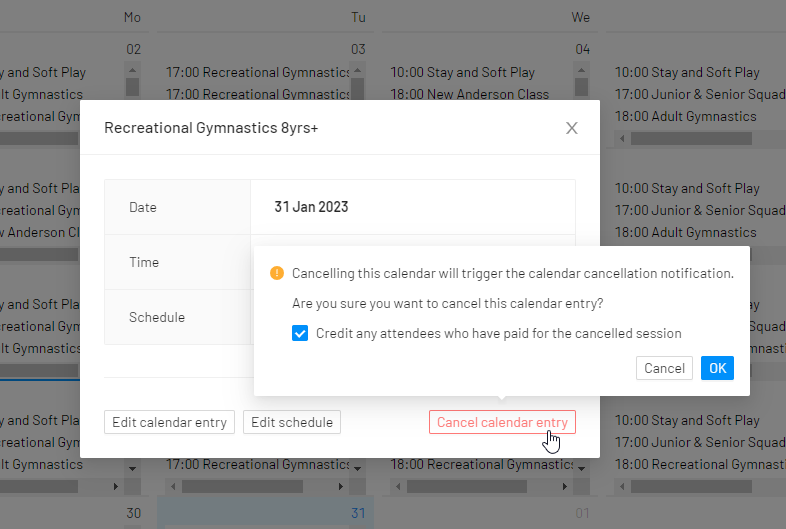 | | |
| --- | --- |
| Version | 2.1.4 |
| Release date | 21/12/2022 |
Product Sales report with column customisation options


Note: The Sales Settlement and Sales Invoice reports can now be found under Home > Financials > Sales Reports

The 2.1.4 software release brings enhancements to the financial reporting tools in V2.
The new Product Sales reports allows you build your own product invoice reports. New columns have been introduced to help bring further insights into your reports and enable you to view, and export, the information that's most important to you.
Find the Product Sales report by navigating to Home > Reports > Financials > Sales reports > Product Sales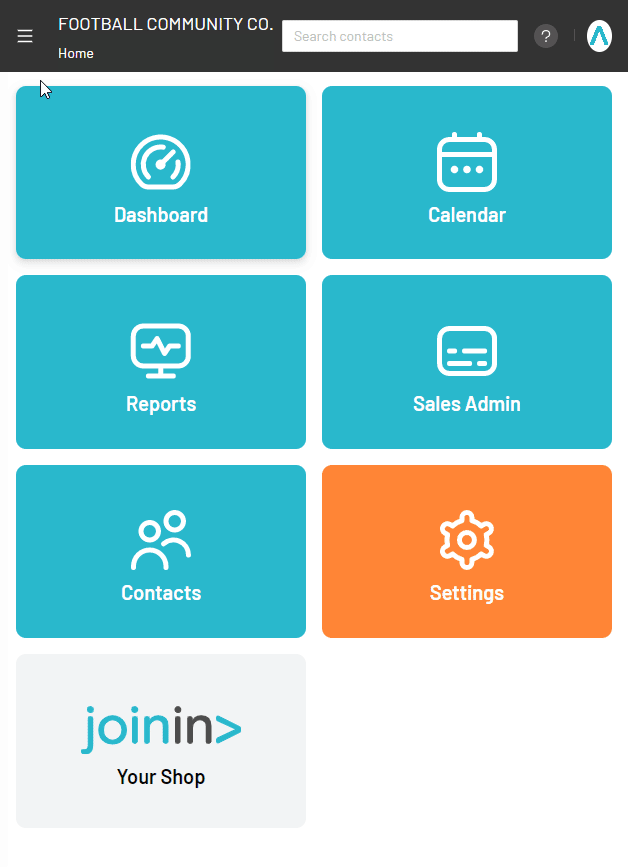 Adding columns to your view
You can add or remove columns to both your top-level view and your itemised view by clicking on the 'Manage columns' button in the top-right.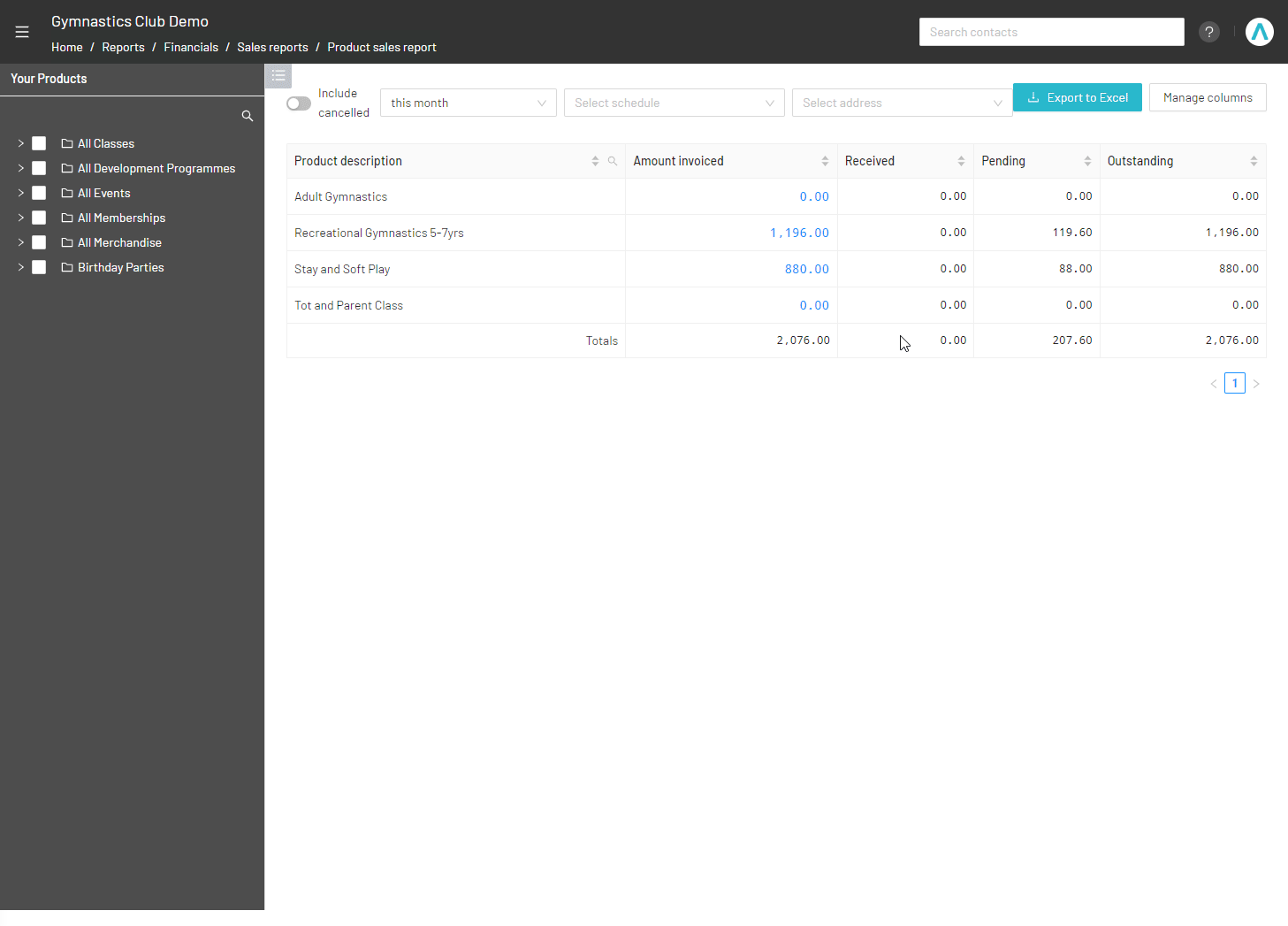 Click on the + button to add a new column, and choose from the available column presented in the drop-down menu.

Report on the status of instalments against the consolidated amounts


The new Product Sales report allows you to add both 'instalment no.' and 'Consolidated amount' information into your reports to help you track the instalment payments against the original consolidate amounts.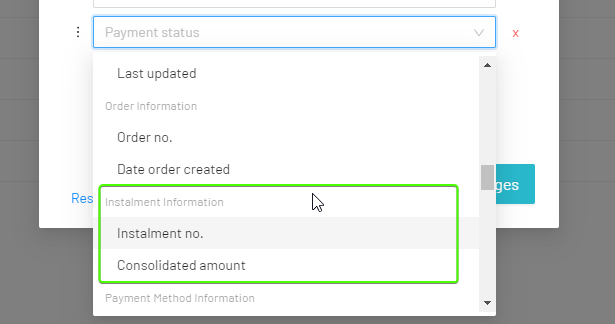 | | |
| --- | --- |
| Version | 2.1.3 |
| Release date | 24/11/2022 |
Export data and perform actions straight from within the Reports and Sales admin sections

You can now perform actions directly from within the following Sales admin and Reports sections:
Sales admin > Orders
Sales admin > Invoices
Sales admin > Payments
Reports > Financials > Sales settlement
Reports > Financials > Disputes
Reports > Financials > Aged receivables
Reports > Financials > Customer mandate status


All sections above allow you to send communications and export data. The following additional actions can also be performed from with Sales admin > Orders
Add beneficiary to product
Add beneficiary to groups
Invite beneficiary to product

Simply select your contacts from a list and choose your action from under the Actions menu, available in the top-right.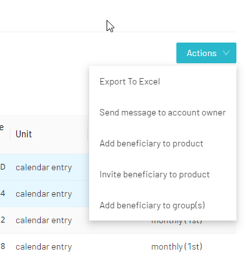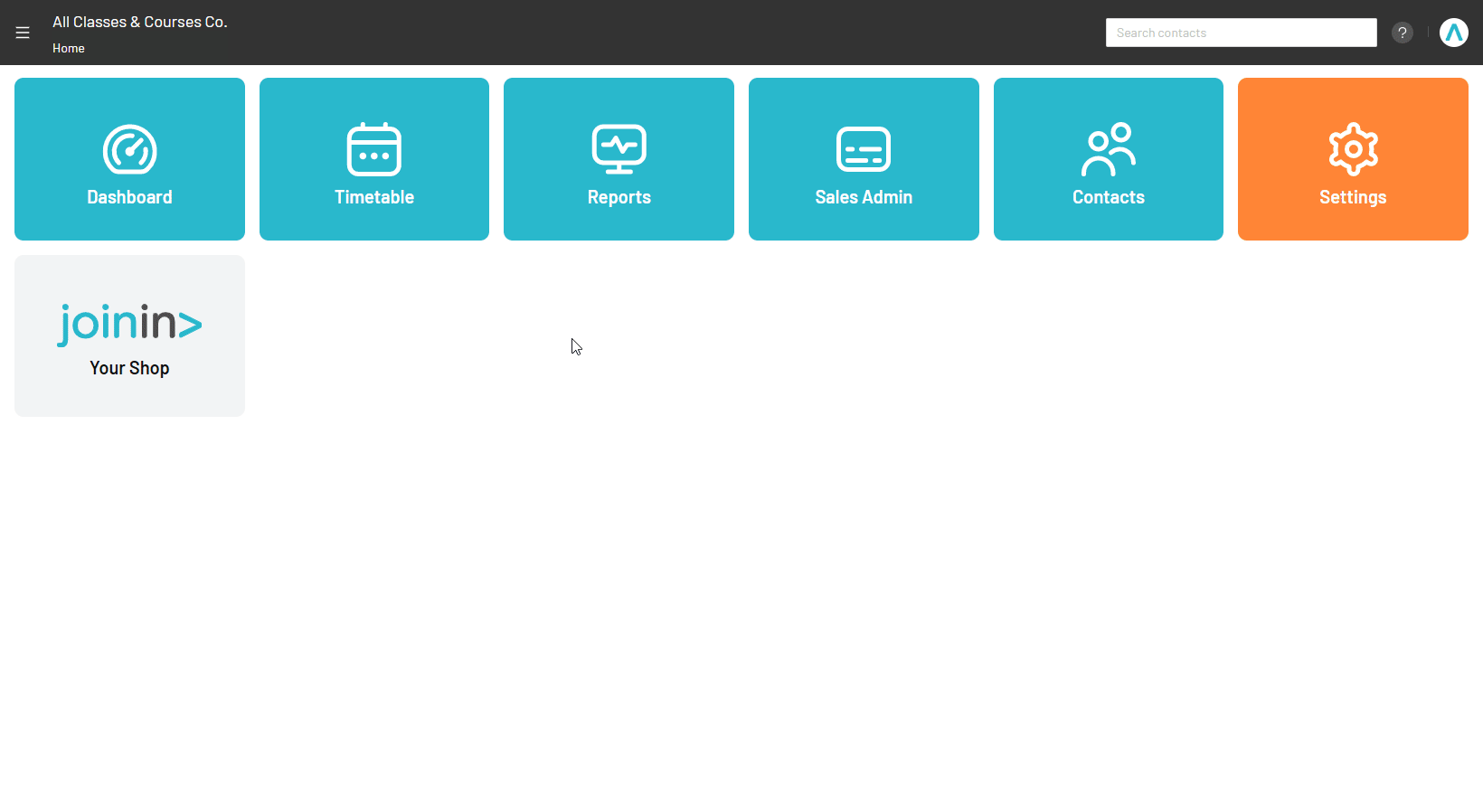 Invitations after trials


When trialists are marked as attended via the class register, an automatic email invitation is now sent to the account account owner, with a request to purchase the full class.
| | |
| --- | --- |
| Version | 2.1.0 |
| Release date | 10/11/2022 |

Over the past few weeks, we have been working on exciting improvements to the Timetable and 'Attendee view' (that's the page that loads when you click into a session from the timetable).
These changes are scheduled for release next week and include:
New side navigation menu
The new side navigation menu lets you quickly move between sections of the system.


New timetable view
We now provide three different ways to view your timetable activity. These include:

The Agenda View – an easy digestible weekly and daily view of your activity: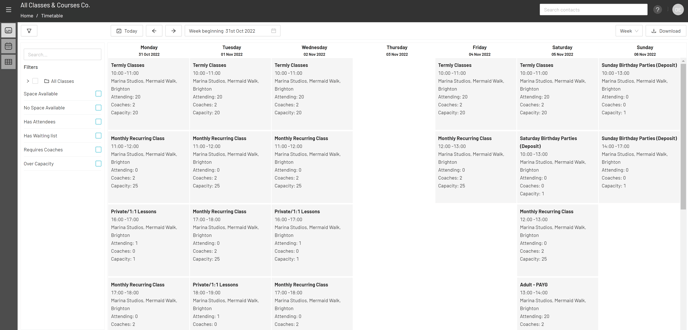 The Calendar View - An Outlook / Gmail style calendar that lets you view by month, week and day: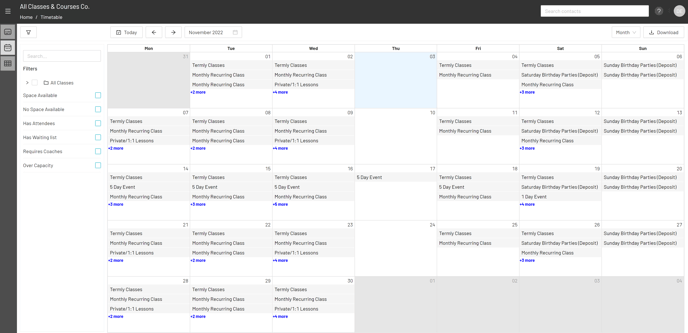 The Table View – a daily summary of the sessions of the day along with sortable information including number of attendees and waiting list size:


Each view comes with pre-set filters to help you get to the information you need quickly: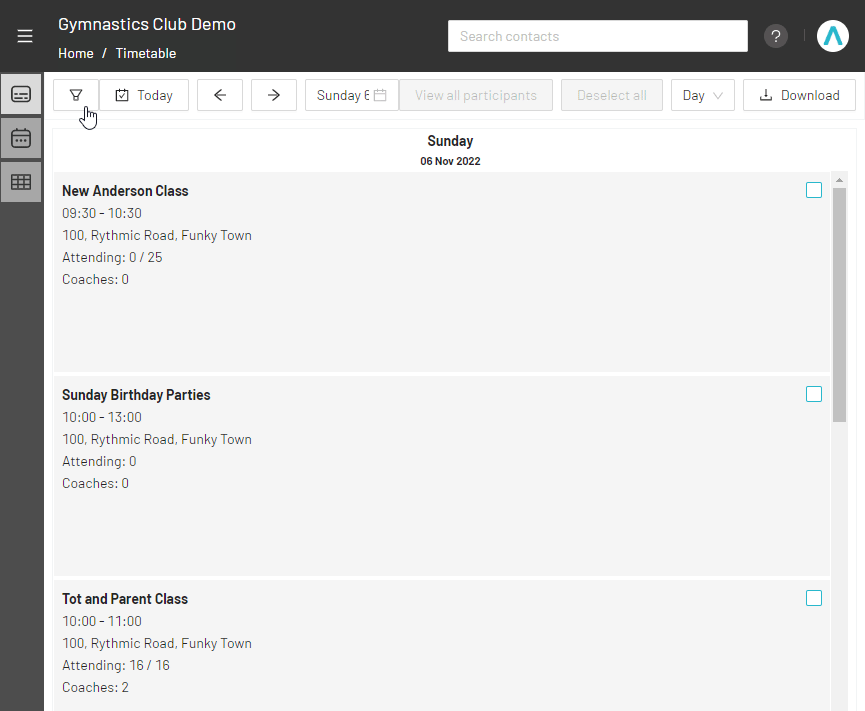 New register attendee view
This new view incorporates separate tabs for the Attendance Register, Management Tasks, Development Programme, Waiting Lists and Sessions Awards (like Star of the Week).

Attendance Register
You now have two views – Quick and Advance. Learn more about how to use the new register here.
The Quick View displays the name of the attendees along with their photo (if they have uploaded one to their profile). Tapping on their name will allow you to rotate through the different attendance statuses (attended, missing, on holiday etc).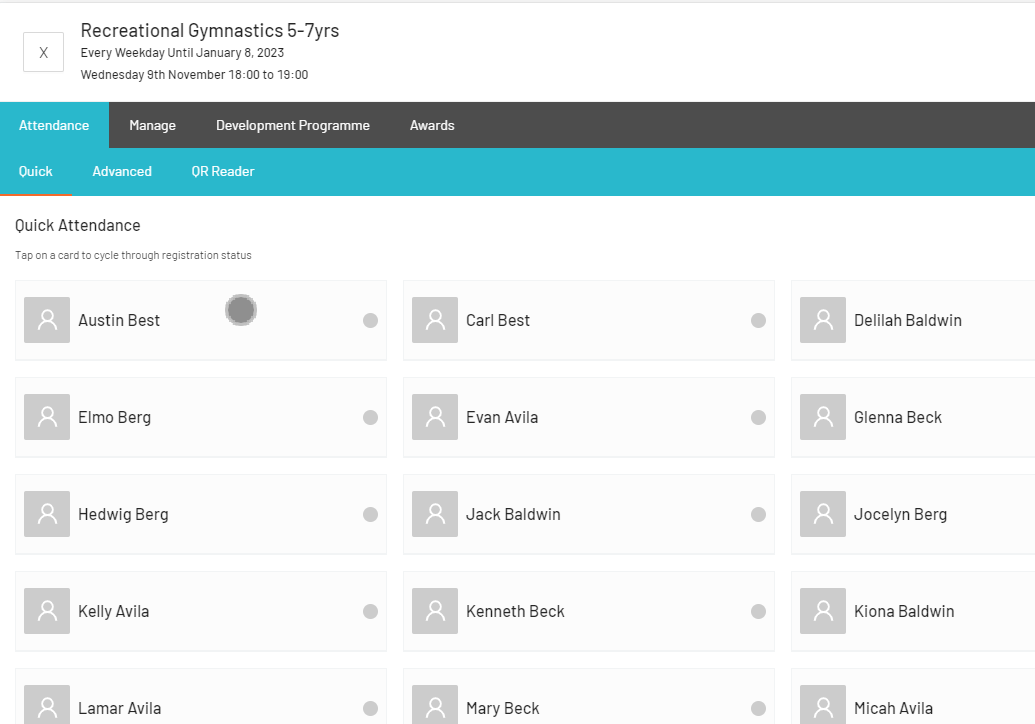 The Advanced View displays additional data that include the age of the attendee, whether they are on a trial, have medical issues, have a note against their record or have given photography consent. You can also see their attendance history (and define how much history you would like to see). You can update their attendance status in bulk or individually as well as download the register to Excel so you can print it. The next version of this view will allow you to customise the data you'd like to see on the register.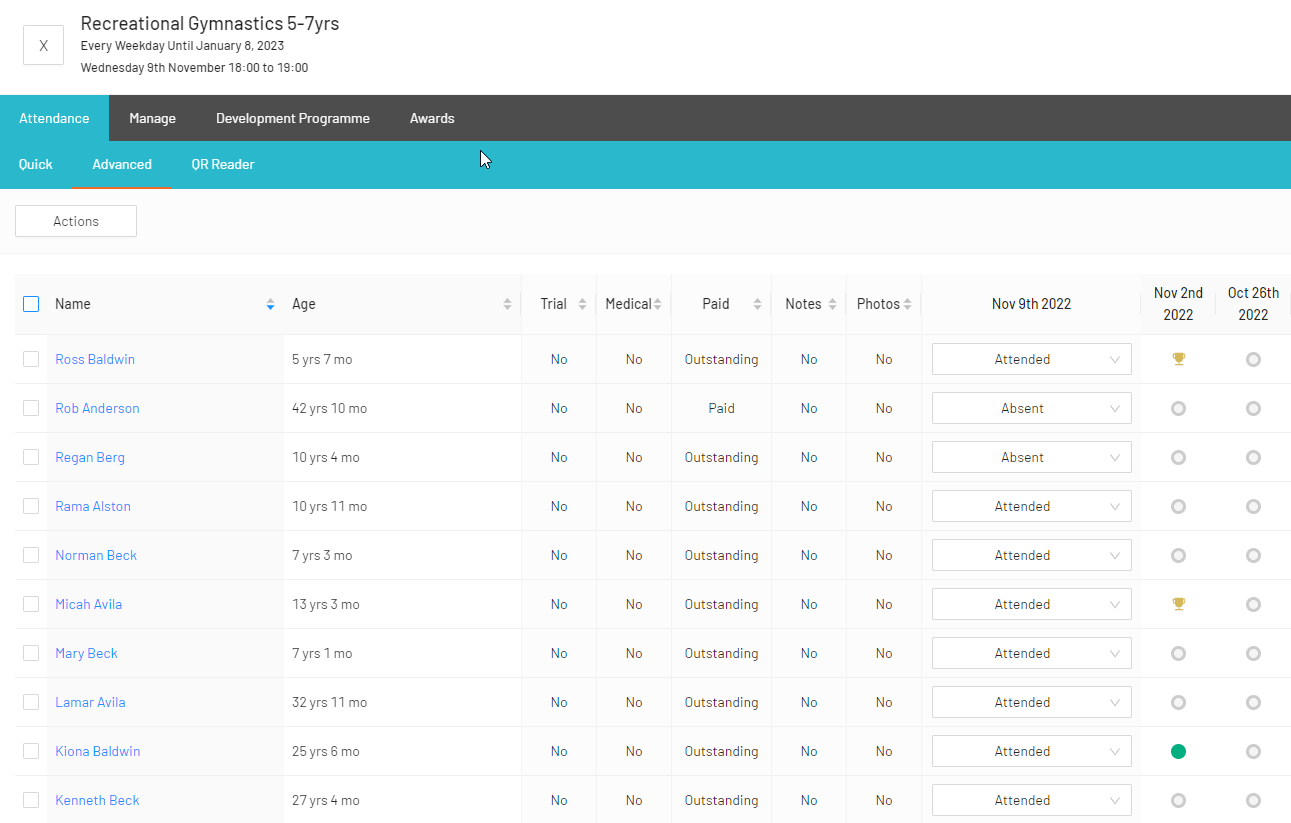 As per the previous version of the attendance register, you can also launch the QR Reader to scan people in to a session as they arrive.

Manage
The 'Manage' page allows you to carry out admin functions like sending messages, inviting and adding people to products, assigning coaches and a new feature 'Move to new class'.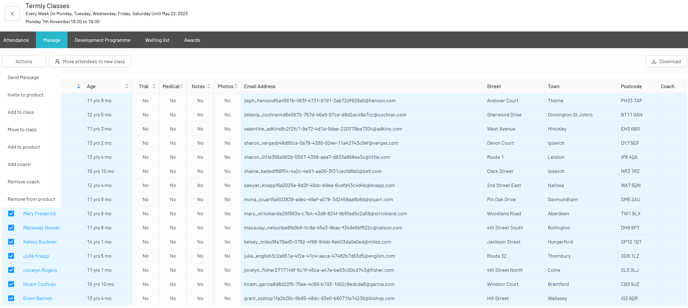 'Move to new class' removes a person from the class you are viewing in the timetable and adds them to a new class of your choice. It's been designed to minimise the number of clicks this action takes.

Development Programme
We have now made it easier to record the levels and skills people are working on. Plus we've made it quick and easy to see what stage your attendees are in their development. For example, show me what skills they have been working on in the last week. You can update information in bulk or individually.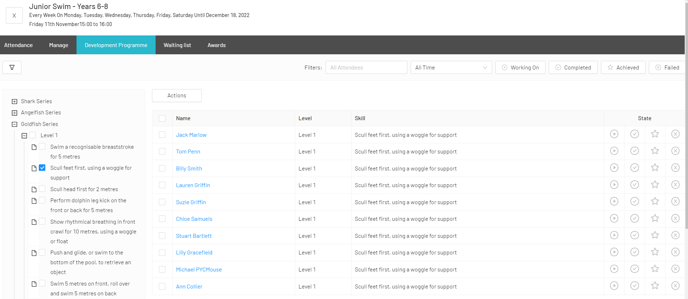 Waiting list
If you have a waiting list for the class, details of who is on the waiting list will appear in a table format where you can carry out actions including 'Remove from waiting list' and 'Promote from waiting list'.

Session Awards
If you have a 'Star of the week' award or similar, this feature is for you. You can simply record who received the award and then view over time the recipients. Learn how to assign awards here.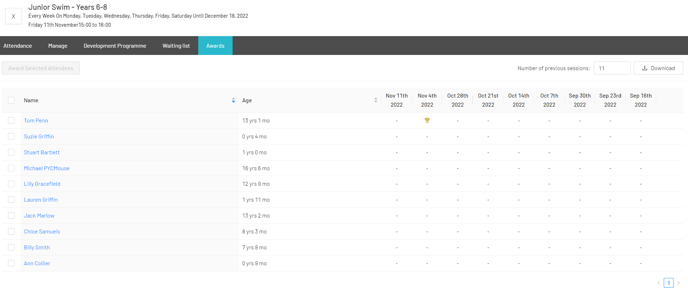 | | |
| --- | --- |
| Version | 2.0.5 |
| Release date | 06/10/2022 |
Add hyperlinks and formatting to consent information

You can now include hyperlinks and format your text using the new inline editor for consents. To find the new editor navigate to Home > Settings > Data > Consents.

This feature will be useful if you are hosting necessary information on other sites.


Tip: Tick the option to 'Open link in new window' to ensure your customers do not lose their place in your shop checkout, when they open your link.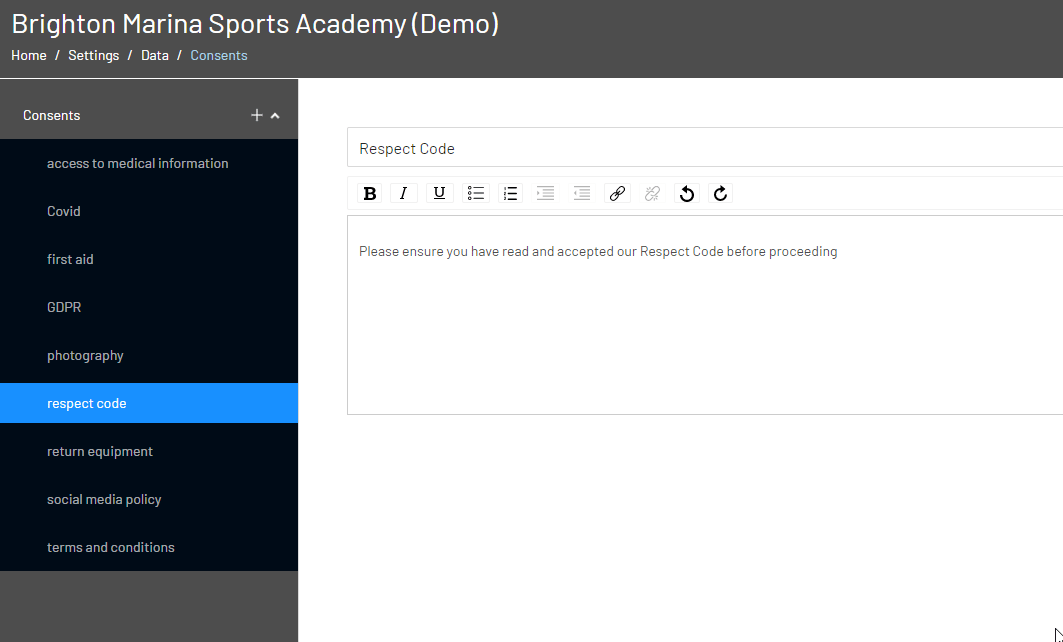 | | |
| --- | --- |
| Version | 2.0.2 |
| Release date | 20/09/2022 |
Static search bar

The new static search bar feature allows you to search contacts from any page.
You can search on names or email addresses. An email search will find all beneficiary contacts linked to the same user email address.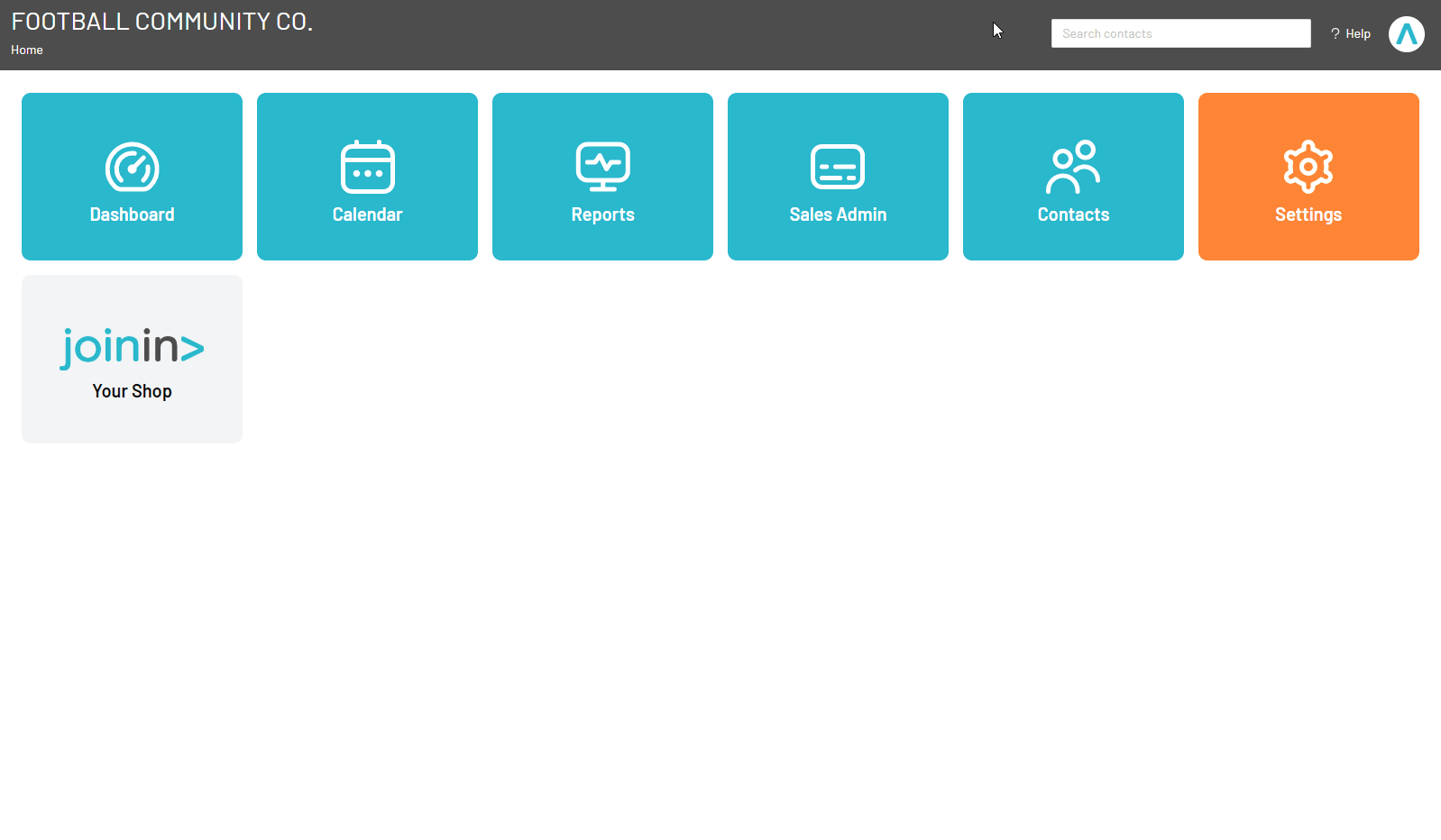 | | |
| --- | --- |
| Version | 2.0 |
| Release date | 31/08/2022 |
Edit personal information on behalf of your customers


You can edit personal information on behalf of your customers, via the full contact record view.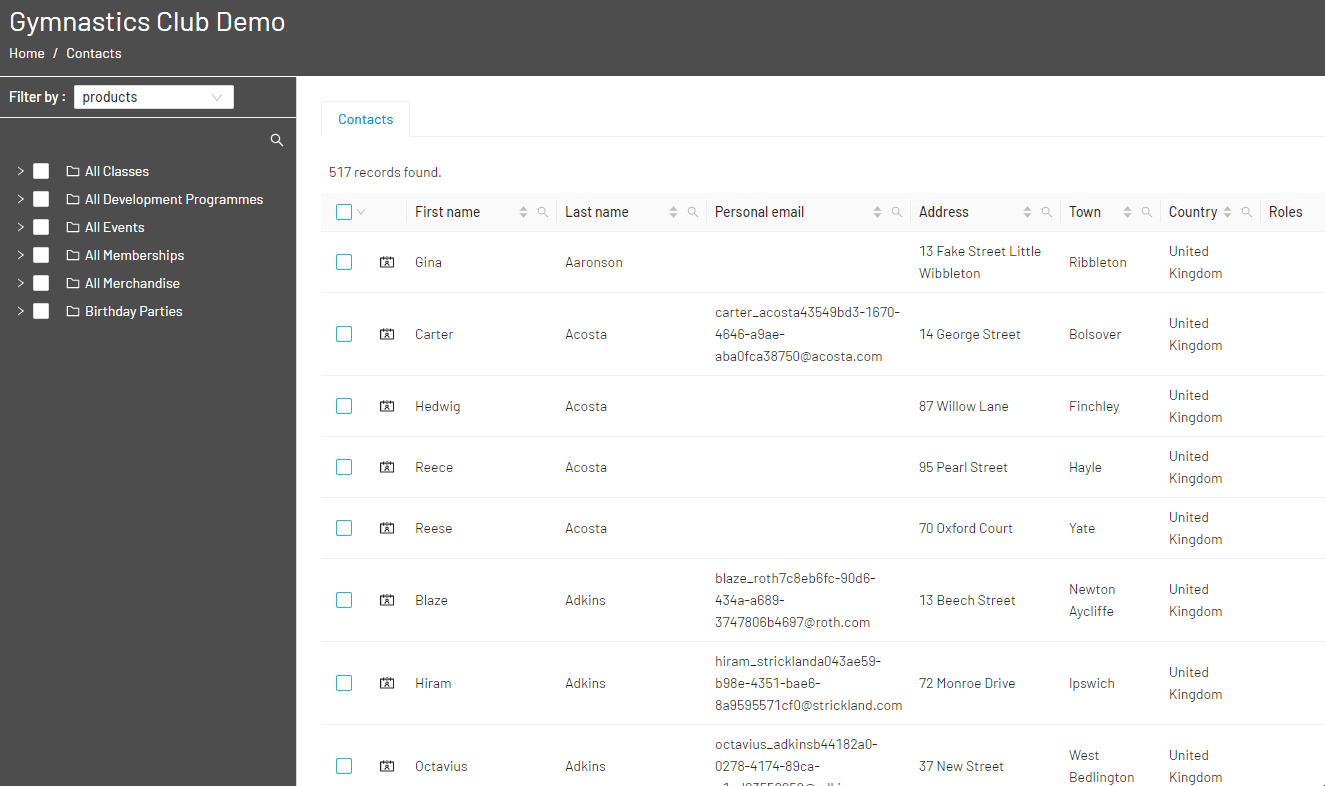 | | |
| --- | --- |
| Version | 0.271 |
| Release date | 12/07/2022 |
New joinin dashboard Launched



The joinin website has had a facelift! As well as looking significantly better, it's now much easier for contacts to update their personal data, make payments or cancel attendance to sessions. Everything is kept together under each user, it's quicker to access your organisation's shop and we've focused on intuitive behaviour, helping contacts do what they need to without help.



| | |
| --- | --- |
| Version | 0.270.0 |
| Release date | 01/07/2022 |
For all Membership/Subscription products, you can now set when current registrations end and new season sign ups begin. Signing up in advance will schedule payments for the season start and let you get registrations and mandates set up ahead of time. When the season begins, invoices will be sent out automatically and payments taken!
On Product Purchase email notification
The On Product Purchase notification has been added to the "Purchase and Payment" section of notifications. You can set up multiple notifications unique to different products and manage the templates to your heart's content. The notification will be sent when the contact completes purchase of a product in your shop.
Age Restrictions now allows months
If you're working with young children and babies, you understand the importance of months as an age restriction. This has been a commonly requested feature and we're happy to announce that it's been added in 0.270.0. When setting your age restrictions in Products, you can now specify months too.
Make a Schedule Public or Private
Here's a small, but useful change for managing your schedules; we've added a visibility status for individual schedules to your settings. This makes it easy to hide any schedules from your shop, without affecting the rest of the product settings.



| | |
| --- | --- |
| Version | 0.269.0 |
| Release date | 20/06/2022 |

New Feature - File Upload on Member Registration



Just added to Version 2 is the ability to get your users to upload their own files during registration: Whether you need player pictures for the new season, proof of age for your squad or certification for your coaches, the Required Files feature lets you collect this information to be stored on your account, or downloaded to feed into another system.
Overdue Payment Reminders
Overdue payment reminders are now active in the system: set up automatic chases for anyone who has missed payments. You can choose how often they are sent, and the system will keep chasing your contacts until the payment has been completed.
Notification for First Time Purchases
We've set up a new notification that will trigger when a contact joins your organisation for the first time. If you need to send someone a set of documents, confirmation of rules or just a friendly welcome, you're now able to with the "new customer, first purchase" notification in "registration".
Locking a Custom Price
Now, when editing a customer's gross payable amount for any invoice, you now have the option to lock that figure, meaning they will be charged that price any time they renew. This can help you manage those special exceptions and give you more flexibility on how you bill.

Cancel Calendar Entry Improvements
We've made a few improvements to cancelling a calendar entry from Settings > Schedules: We've added an additional confirmation and some more information so that it can't be done by mistake and you're now able to reinstate calendar entries from the same page.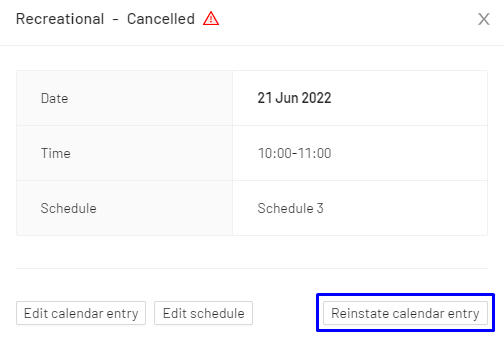 Below are a list of previous updates...
Credit Notes Released
Credit Notes are a brand new feature to Version 2. They allow you to add a credit value to a contact's account, which will be automatically discounted from their next invoice. If a session has to be cancelled, or you accidentally overcharge, simply credit a value to the contact and the finances will be sorted immediately, avoiding the need to refund.