LoveAdmin allows you to create calendars that can be used to add holidays and exclusion dates to the schedules you are running
Custom calendars work in conjunction with your schedules to ensure that bookings take place on valid dates and your billing is calculated correctly.
Close dates can be set up individually or by a custom calendar that allows you to share the same close dates across multiple different schedules. A custom calendar would allow you to set the exclusion dates for multiple classes at once.
Tip: We recommend setting up and reviewing custom calendars at the start of every term or year to ensure you have the latest exclusions dates included.
Note: Exclusions are used to mark dates on a schedule that you do not want to run. If you want to cancel a calendar entry that has already been created or has contacts on the schedule, you'll need to cancel the calendar entry instead.
That can be done in Settings > Schedule > Calendar View. Click on the session(s) you'd like to cancel and click "Cancel calendar entry". Each contact will be alerted by email.
Important: Exclusions cannot be reversed at a later date. Do not add an exclusion to a schedule until you are certain it is required.
How to Create a Custom Calendar for Exclusions

Steps:
Navigate to Home > Settings > Schedules
Click on the Exclusion dates tab and click on the 'Add Calendar' button
Give your calendar a name, for example 'School holidays' or 'Winter break' and Save

Use the 'Add a single date' and 'Add a date range of date' date picker to select all dates you need to add to your calendar

Each time you have selected a date or date range, click on Save to add it to your calendar. You can return here at any time to add more exclusion dates to this calendar and it will update all schedules it has been applied to (see below)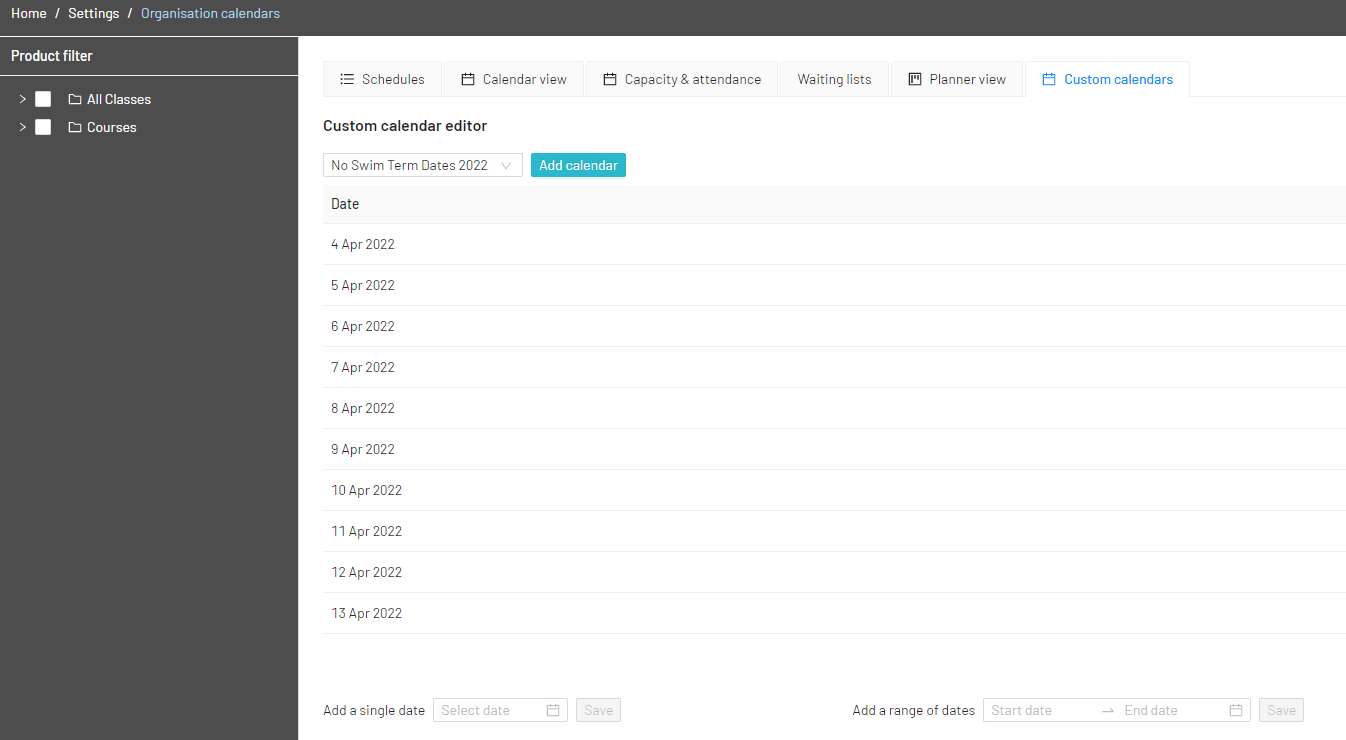 Adding the exclusion/holiday calendars to your schedules


Once you have created a custom calendar you can assign the calendar to your schedules so that your schedules exclude these dates when calculating billing and dates that people can book onto.
Navigate to Settings > Schedules
Find the schedule you'd like to add this and under "Action" click the edit schedule icon:
Click "Exclusions"
In "Take exclusions from a custom calendar" choose the desired custom calendar
Click Save in the bottom left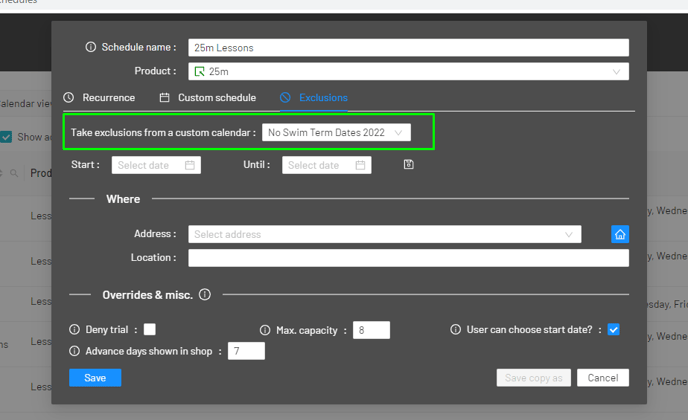 Note: This will tie the schedule to that custom calendar. Any changes made to the custom calendar will affect this schedule.

For help on how to add exclusions to your schedules, read our help article here.

How to add schedule specific exclusions
If you have a single schedule that needs its own exclusions, or you only run one schedule, you can alternatively set the exclusions directly against the individual schedule.
Navigate to Settings > Schedules
Find the schedule you'd like to add this and under "Action" click the edit schedule icon:
Click "Exclusions"
Enter the "Start" and "Until" dates you'd like to have as exclusions

Note here that the Until date will not include that day

Click Save in the bottom left