Products can be anything you offer to your customers and requires a registration or payment. In this article you will learn how to add products and make them available for your customers in your online shop
Each product type possesses a unique set of properties and you should therefore use a type that is best suited to the product that you are adding.
For example, we would not recommend setting up a membership using the 'Money' type; you should always use the 'Membership' type, as a membership will have certain properties that lend itself best to this type of product.
Subscription/Membership
Some examples of these would be:
Monthly/Annual subscriptions to a service
Monthly/Annual Memberships to your organisation
Insurance
Classes
Classes would be any class, training session or course with scheduled dates.
Merchandise
If you are selling a physical product, like a jumper or baseball cap, then merchandise is the best choice.
Team
A team would be used for a regular training session for a sports team that you wish to use attendance registers for.
Event
Events would be any scheduled event that has multiple purchase options. It is commonly used for holiday camps, ticketed events or match fees.
Money
The money unit is the most basic and only allows a price for a single payment. This is used for the collection of one-off fees or for fines.
Products vs. product groups


When you create your products, it is always recommended you organise and group them using product groups.
You can think of product groups as folders which you use to organise the products themselves; product groups are not products and only serve the purpose of letting you organise your products.
Product groups are represented with a folder icon in the side bar, as shown below, with the products themselves grouped inside.


Advantages of using product groups


Product groups keep your side menu tidy and organised
You can apply product settings at the group level - settings applied at this level will then be inherited by all products beneath.
When product settings have been inherited from the product group, you will see a label on the right-hand side. In the example below, the pricing for the product has been inherited from the pricing applied at the product group level.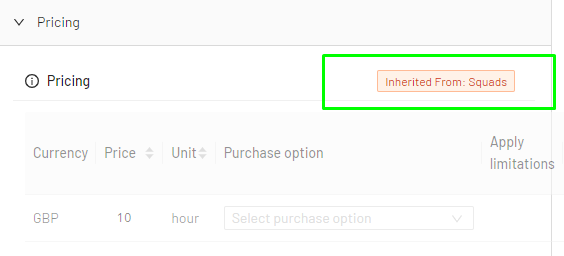 Product groups allow you to filter classes more easily when using your timetable/fixture calendar or when managing your reports. You will see in the example below that groups can be selected when viewing the timetable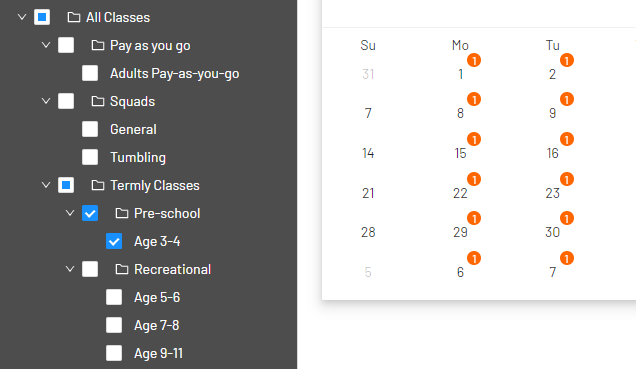 Adding a product
You can find the Product tile in Settings > Products. You would add a product for a brand new product or a product with different age restrictions. If you are adding additional dates to an exciting product, you don't need to add a new product, you can manage this by editing or adding a schedule.
Steps:
Select Add Product
Create a Product Group and select the type of product you wish to create from the drop down menu, Then fill in the remaining product details.

(Click animation to enlarge in a new tab)
Side Note: If you are using a smaller monitor, you'll need to toggle open the sidebar with the hamburger icon:


The "Add product button" may also be replaced with a smaller icon:

Once you have added your product group, you can add additional product sub-groups, or individual products.
Select Product and the type of product from the drop down menu
Add product to the existing product group
Enter price of product and how you wish for payment to taken

(Click animation to enlarge in a new tab)
Tip: For more information of the options and settings available when creating a product, view our Product settings article here.