Before you can take payments you must link a payment provider to your LoveAdmin account. This article will guide you through the process.

To process card and bank payments, your club or organisation will require a payment provider to facilitate the transactions and credit funds to your chosen account.
Payment provider options


PayPal - Accept payments via credit or debit cards
London & Zurich - London & Zurich are a Direct Debit payment provider only
GoCardless - GoCardless are a Direct Debit payment provider only

Each payment provider has their own fees. Click here to view a breakdown of the payment provider and LoveAdmin fees. Please click here for the expected processing timelines for GoCardless and here for London & Zurich.
Important: London & Zurich customers do not need to follow these steps to link the payment provider; the integration will be completed by our onboarding team on successful completion of your application.

Steps:
Navigate to Home > Settings > Organisation > Payment providers and select your provider
Click on the available button to start linking your account; you will then be taken to the payment providers page to follow the next steps

It is likely you will be sent an account verification email if you are registering a new account with the payment provider. Check your email and follow the necessary steps to verify your account with your chosen payment provider.
Once this has been done, your new account will be linked to the LoveAdmin system
Side Note: If you already have an existing account with your chosen payment provider, all you will need to do is sign into your existing account and the services will link together.

PayPal customers

For PayPal customers, it is important you choose which funding sources you want to make available for your customers at the checkout, as these will not be enabled by default.
The options are:
Credit or debit cards
PayPal credit

Click on the 'Configure funding sources button to enable your options.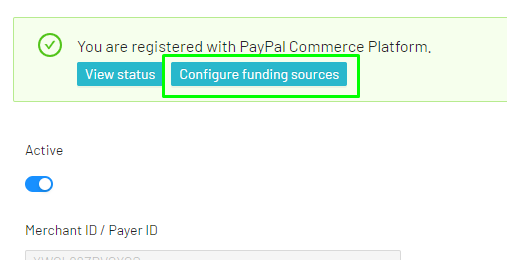 Connecting to your products
Once you've activated your payment providers, you'll have the option on your products to choose which payment provider you'd like to use.
Navigate to Home > Settings > Products
Choose your product group or product from the left sidebar
Open the 'Billing and renewal' tab from the product settings and ensure you have set the payment provider for both the 'initial payment by' and 'subsequent payments by' payments.