Instalments allow your customers to break up larger sums into smaller monthly payments
Tip: For sports teams, we recommend spreading instalments no further than beyond the end of the playing season. e.g. If you season is 8 months, then we do not advise offering an 11 month instalment plan.
Keeping instalments within the playing season results in a higher collection success rate as payers are required to complete the payment of all instalments before the end of the playing season.

Instalments are managed as part of your product settings and allow your customer to choose how many monthly payments they'd like to pay in.
When contacts add products their basket via your shop, they will be able to choose whether to make a one-off payment, or pay in the number of instalments you have offered.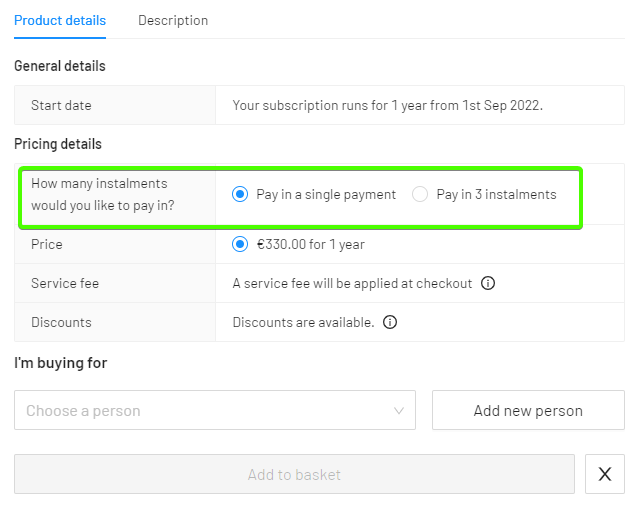 Important: Note: If you choose to add a person to a product directly, there will be no option to choose the number of instalments on their behalf; the system will request an immediate one-off payment.
If you would like to offer a person the option to pay by instalments, you will need to invite them to the product.
How to enable instalment billing
Setting up instalments is easy to do, and is found in Settings > Products.
Navigate to Settings > Products
Select the product group or product you'd like to adjust
In details, open "Billing and renewal"
Under "Instalments" click "Yes" to allow monthly instalments
In Maximum instalments, set your total possible instalments

This will also list the number of remaining instalments and the final available instalment date

Per Instalment Premium can be used to charge an extra fee for each instalment paid
Select "Save"
Instalments with subscriptions


Fixed start dates
If you have a fixed start date, the maximum number of instalments will always have a 'Final available instalment date' - this is the date that the last instalment will be requested.
The total number of instalments available will reduce each month, leading up to this final date. For example, if you are billing from the 1st of September, and offer nine monthly instalments, anyone scheduled for, or signing up in this month will be offered nine instalments. If a person then signs up in October, they can only pay the total amount over eight instalments, as the instalment plan is now one month in.

Billing on sign-up anniversary date
If you bill your contacts on the anniversary of their purchase (ie. a rolling period starting from when they purchased), your remaining instalments will always match the maximum number, regardless of when the purchase is made.