This article helps to explain why some payments may fail and how these situations can be resolved
Note: Email notifications can be sent to your administrators, and your customers, if payments fail. For help managing your notifications, read our help article here.

Where to find failed payments

You will find all online payments that have been initiated, and their respective statuses, under Sales Admin > Payments.
To filter your payment by status e.g. Failed, use the filter icon

in the Status column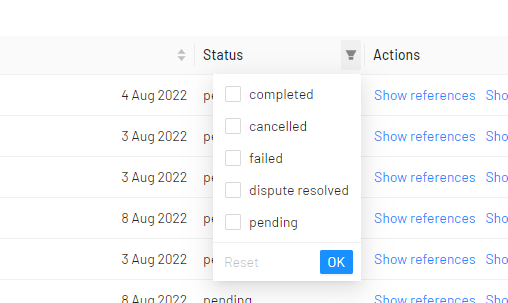 Tip: Click on the 'Show timeline' action beside the payment to see a timeline of payment activity; this data is fed back from the payment provider.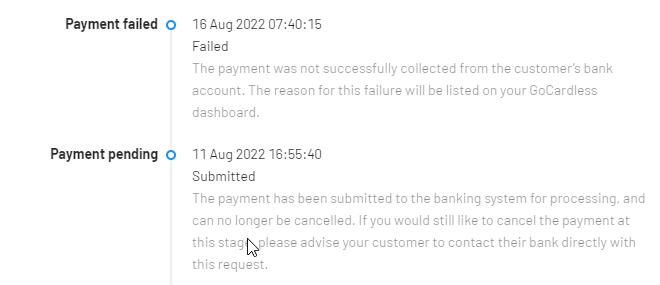 Reasons for payment failures

Payments could fail for a number of reasons, including network related problems, or insufficient funds. Below is a list of the most common failures.


Note: In many cases, LoveAdmin will retry failed payments automatically after 24 hours, for three attempts.
Automatics retries however will not occur in circumstances when a payment has manually been cancelled, for example a customer has cancelled their direct debit instruction. In these situations, a customer must attempt to make the payment again, with new payment details.
Important: Direct Debit failures will not be known until the collection and processing cycle is in the advanced stages. If a Direct Debit payment fails, the processing timeline will start again.
REFER_TO_PAYER

This failure message is returned for several reasons. One is that there was a connection error between banking systems, another is that the payment has been blocked by the bank or that there were insufficient funds in the account to make the payment. It is not possible to know exactly which reason was behind this error message.
The system will automatically retry the payment the following day, after the payment failure is recognised.
THE CUSTOMER ACCOUNT IS SUSPENDED; The customer account is suspended. No actions regarding payments will take place when the customer is suspended (also known as end dated).

The bank account itself either doesn't exist or is unable to process direct debits for *some* reason. Possible reasons and recommended actions are:
Account Number is not recognised at the paying bank
Direct Debit information is incorrect. If appropriate, the contact should set the direct debit up again from the Payment section of their LoveAdmin account.
In some cases, there may also be an issue at the bank and the contact should contact their bank for further advice
Your customer will be required to make the payment again. They can find their outstanding invoice in their joinin account:
INSTRUCTION CANCELLED / NO INSTRUCTION

The customer's Direct Debit mandate/instruction, has been terminated and no further payments can be authorised. This is most commonly actioned by the bank account owner before a requested payment has been collected.
Your customer will be required to make the payment again. They can find their outstanding invoice in their joinin account:


Your customer will be required to make the payment again. They can find their outstanding invoice in their joinin account: