In this article you will learn how to create schedules for your activities
Schedules are assigned to all class, event and team products and tell LoveAdmin when they run. Without a schedule, these products will not have selectable dates.
You can use a single schedule to manage all of your days and times for a product
You can have multiple schedules for the same product if you need to run in multiple locations, or certain days have different capacities.
There are many options available to help you run recurring schedules, custom one-off schedules and to manage dates when you don't want sessions to run.
Creating or Editing a new schedule


Steps:
Navigate to Home > Settings > Schedules
Click on the 'Add schedule' button in the top-right to begin setting up your schedule

To edit, click the edit schedule icon . The instructions will be the same as below.

Complete your schedule as necessary and click "save"

You schedule will be applied to that product and will generate calendar entries based off the information you created. You can adjust schedules later by returning to it and editing it. There are situations where you can't change various parts of the schedule as contacts have already purchased it, but the system will alert you of that.
Cloning an expired/deleted Schedules
On the Archived tab you can also save time creating new schedules by cloning an expired/deleted schedule.
Steps:
Navigate to Home > Settings > Schedules
Click on the 'Archived' schedules tab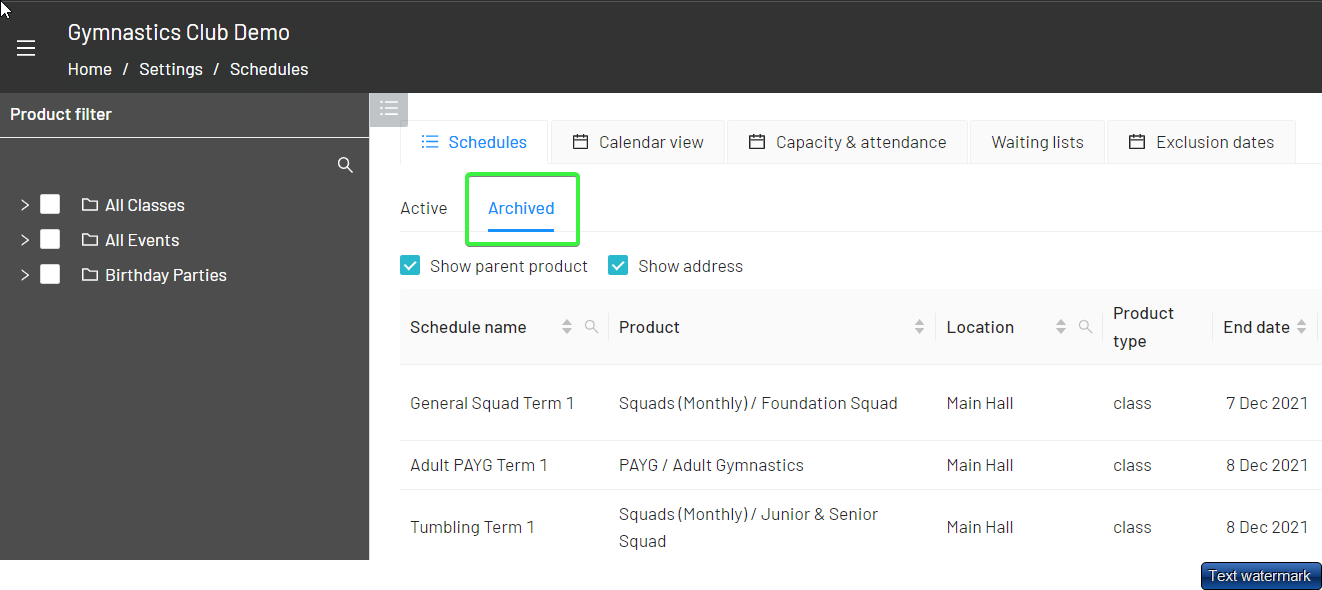 Schedule Properties


Schedule Name - Add a suitable name for the schedule, such as 'Summer term activities' or 'Recreational gymnastics ages 5-6' - This is an internal name reference only and will not be displayed publicly in your shop
Product - A schedule can only be linked to one product and this will be set automatically.
Status - Set whether the schedule is visible in the store or not. Public schedules can be seen, private cannot, depending on other settings. Use this to quickly hide schedules from the store
Session duration - This will calculate the end time
Day and time settings - Define the days of the week and times your class/event runs on. If a class/event runs at the same time on multiple days, you add these into the 'Day' field

If you've selected the "Custom Schedule" tab, you'll be able to choose specific dates
Tip: If a class runs at the same venue and has the same fixed price for all days, then you only need to create one schedule for all its days and times.
If you want to add a new time to an existing schedule, simply add an additional time and day and click save here.
Recurrence (appears under the recurrence tab)

Repeat every week(s) - How often do the sessions repeat
Starting - The start date of the schedule
Until - the end date of the schedule
or after occurrence(s) - how many calendar entries (total) to create on this schedule

The occurrence figure considers each calendar entry as "1" occurrence, meaning: if you have 4 sessions - one on Monday, Tuesday, Wednesday and Thursday, respectively:
an occurrence will run on each of the 4 days, once.
Choosing an occurrence figure of '20' will run each day (Monday, Tuesday, Wednesday and Thursday), five times

Rolling schedule length (days) - A rolling schedule allows your schedule to renew indefinitely. The schedule will ensure this many days of calendar entries available at all times
Tips:
Rolling schedules are recommended for schedules that are continuous and have no expected end date
There is a default minimum value for a rolling schedule and the system will enter this if you choose a number that is too low
Where - Choose the address that your schedule applies to and type in a more specific location

You can set up multiple schedules for the same product to manage multiple addresses

Overrides & Misc. - Choose whether you wish to override any of the product settings from within the schedule:

Deny Trial - Prevents any trial options for appearing for this product
Max Capacity - Override the max capacity set in products
User can choose start date - If checked, people can choose when in the schedule they want to start attending when they register

Advance days shown in shop - Choose how many days in advance of the start date this schedule appears in the shop
Exclusions allow you to define closed periods in your schedules. Excluded dates will not generate calendar entries.